The Plexus Groupe Named as 2022 Best Practices Agency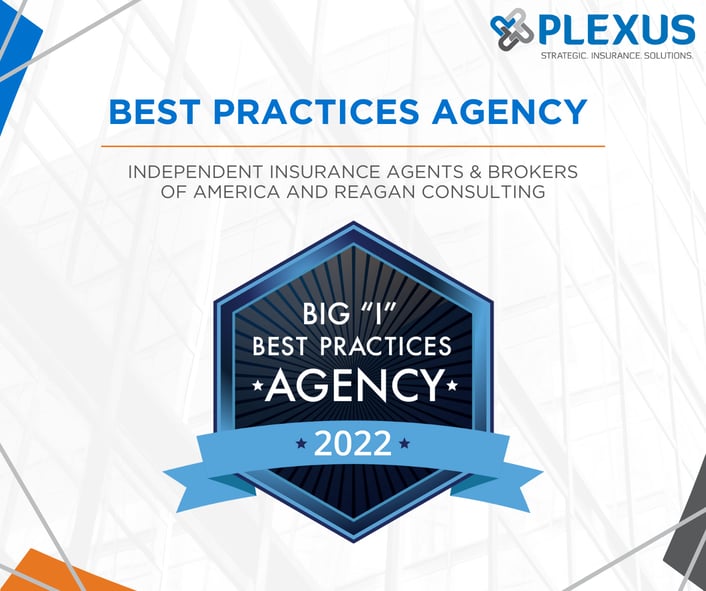 The Plexus Groupe has been selected to be part of an elite group of independent insurance agencies around the United States participating in the Independent Insurance Agents & Brokers of America (IIABA or the Big "I") "Best Practices" Study Group.
The Plexus Groupe was one of only 282 independent agencies throughout the U.S. that qualified for inclusion in 2022 Best Practices Study. The agency was nominated by either a Big "I" affiliated state association or an insurance company and qualified based on outstanding customer retention, growth, stability and financial management. More than 2,600 agencies were nominated this year. To be chosen, the agency had to be among the top-performing agencies in one of six revenue categories.
"We are honored to be included in this elite group and recognized as a top performer among our peers," said Walter Fawcett, Founder and CEO. "Being recognized for the 10th consecutive year is a testament to our commitment to operational excellence."
The Best Practices Study was initiated by IIABA in 1993 as the foundation for efforts to improve agency performance. The annual Study of leading independent insurance agencies, which is conducted by the Big "I" and Reagan Consulting of Atlanta, GA, documents the business practices of these "best" agencies and urges others to adopt similar practices.
About The Plexus Groupe
The Plexus Groupe is an independent insurance advisory firm backed by subject matter experts, innovative resources and our own international network. They offer defined practice specialties in Employee Benefits, Property & Casualty, Private Client, Retirement Plans and Benefits Administration Technology. The Plexus Groupe is headquartered in Deer Park, IL., with additional locations nationwide. Visit www.plexusgroupe.com to learn more.