2022 Summer Interns Reflect on Their Experiences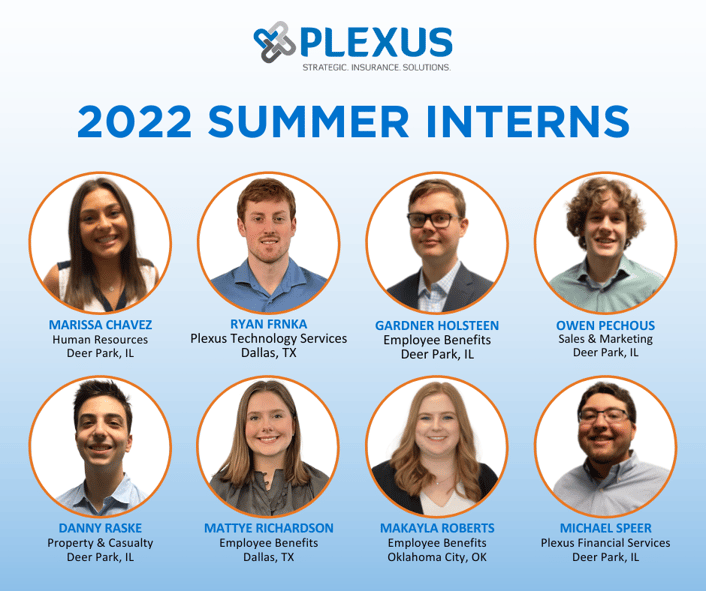 As our Summer Internship Program wraps up, we want to take a moment to reflect on all eight of their experiences and wish them the best as they head back to school soon.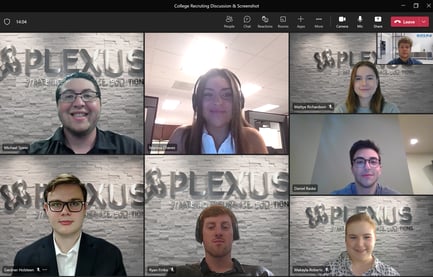 Over nine weeks, we had eight interns working in person in three of our offices. Marissa, Gardner, Owen, Daniel, and Michael worked in our Deer Park, IL office, Ryan and Mattye worked in our Dallas, TX office, and Makayla worked in our Oklahoma City, OK office. Those who worked in the same office had the opportunity to collaborate in person on projects, and all interns connected virtually for a weekly huddle.
Throughout their time with us, they completed various departmental projects, volunteered at philanthropy events, and participated in the Council of Insurance Agents & Brokers (CIAB) intern summer school curriculum. Projects the interns worked on included:
Assisting Human Resources with college recruitment ideas

Developing proposals and presentations for the practices

Creating social media posts and videos

Developing new internal and external resources

Compiling industry benchmarking reports
The Deer Park interns volunteered at Feed My Starving Children in Schaumburg, IL, where they packed meals shipped to Afghanistan and Haiti. Interns had the opportunity to support school supply drives in Deer Park and Dallas, and the Oklahoma City associates volunteered at Infant Crisis Services. All eight interns competed in the four-day virtual CIAB Aspiring Brokers Challenge, where they teamed up with other brokerage interns from around the country. This fast-paced, immersive exercise introduces brokerage interns to the insurance brokerage world. CIAB introduced them to the fundamental business tools needed to build a strong foundation for a career in the industry.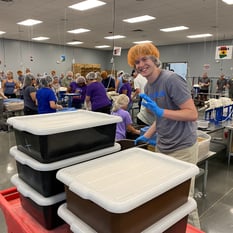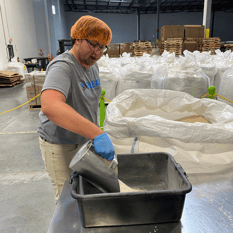 We caught up with our interns to hear about their internship experience from their perspective:
What is the most significant takeaway you gained while interning at The Plexus Groupe?
Marissa: The real-world experience. In addition, I learned that to understand the industry better, it is vital to build long-lasting relationships.
Ryan: Learning how to work and communicate in a professional environment.
Gardner: Meeting and working with all the fantastic associates. Throughout the internship, I had several opportunities to learn from experienced professionals and gain direct insight into Senior Leadership.
Owen: General knowledge about the insurance industry and sales/marketing. Working hands-on with my team members daily allowed me to learn and focus on practical day-to-day work done in the insurance industry and the field of sales/marketing.
Danny: The realization that a successful insurance company requires a wide variety of employees from different educational backgrounds. Beyond producers, the value added to the company through competent HR, Marketing, Accounting, and Management Teams cannot be understated.
Mattye: The importance of company culture. At The Plexus Groupe, you can genuinely tell how much each associate cares about one another. You are guaranteed to see a friendly face every day.
Makayla: Realizing how many moving parts are needed for a successful team in the insurance industry. Because so many people are required to be successful in this industry, success involves respect and appreciation for other people and their experiences across teams, offices, and department boundaries.
Michael: How essential teamwork is. The Plexus Groupe's success can be directly linked to its strong teams throughout every department and practice area. My fellow associates encouraged me to ask questions, taught me how each department operates at Plexus Financial Services, LLC and The Plexus Groupe, and most importantly, demonstrated to me the importance of working together.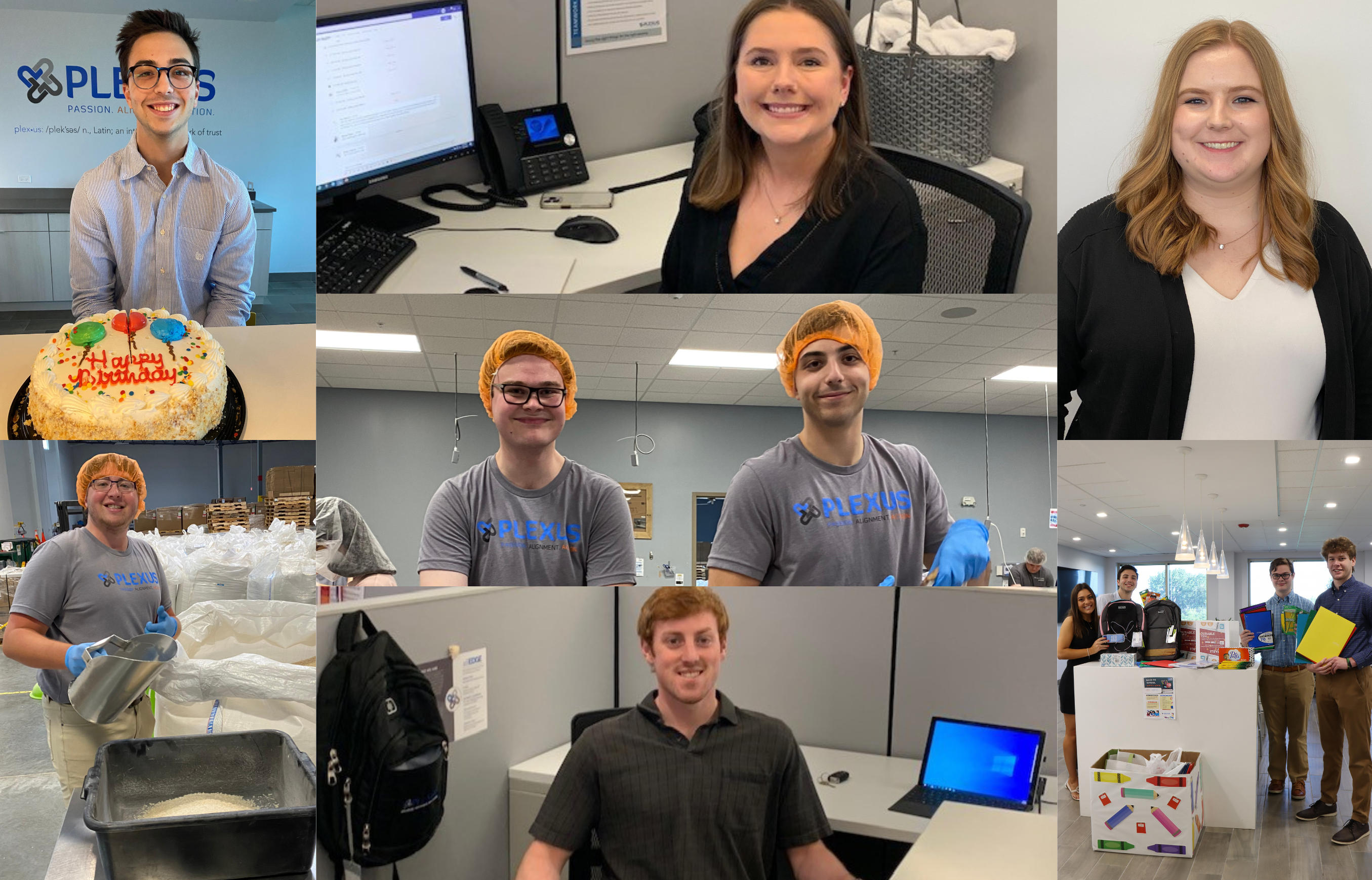 What is your favorite project you worked on and why?
Marissa: Helping HR with the ongoing recruitment process. I helped search for career fairs on Handshake and contacted business/insurance fraternities on college campuses. I enjoyed participating in recruitment meetings and received positive feedback, which was very rewarding.
Ryan: Working on an RFP response for the Employee Benefits and Plexus Financial Services, LLC practices. This allowed me to learn so much in a short period of time and the process was meaningful.
Gardner: Working on a presentation for industry-specific Employee Benefits trends. I was given the opportunity to utilize my passion for statistics by analyzing significant trends and then had the opportunity to present my findings with a visually appealing presentation that effectively displayed the data. From start to finish, I enjoyed working on it and I am delighted with how the final presentation turned out.
Owen: Creating a Day-In-The-Life of a Plexus Intern Instagram reel. It allowed me to work on my video editing, which I am very passionate about, while also challenging me to encapsulate what it is like to be an associate of The Plexus Groupe. In addition, I had a great time recording it with some of the other interns; this gave me a great opportunity to get to know them better as well as build our relationships.
Danny: Creating the Commercial/Personal Lines 101 documents. It allowed me to learn precise definitions for all the various lines of insurance offered by The Plexus Groupe. Due to this never being taught in school, this was extremely helpful for learning why people would want/need so many different forms of risk coverage and who the general markets are for each line.
Mattye: Creating benefit guides for the use of some of The Plexus Groupe clients. I enjoyed searching for all the information and putting it together. Mostly, I loved the creative aspect of it.
Makayla: Cleaning up a census during an RFP. It was very Excel intensive, which is my favorite platform to work in.
Michael: Working on industry benchmarking reports. It allowed me the opportunity to compare different business fields such as fast food, hotels, law, health insurance, etc. It was insightful to see how their employee benefits compare to other industries and the amount of coverage specific plan sizes and employees get.
What advice would you give to next year's interns?
Marissa: The summer goes by really fast, so don't be afraid to take advantage of the opportunities when they present themselves!
Ryan: Ask as many questions as possible and try to absorb as much knowledge and information about the industry that you can.
Gardner: Take initiative, be proactive with projects, and practice both working as a team and independently. You can learn and accomplish a lot if you do!
Owen: Embrace your unknowingness in the first few weeks. Ask questions, dig deeper, and understand that it is OK to not know what you are doing at first. Realize that we all must start somewhere, and what we make of the problems we face is what defines our growth!
Danny: Ask for as many projects/assignments as possible. Doing work, making mistakes, and researching answers is the best way to learn as much about the industry as you can during your time here. Moreover, use The Plexus Groupe associates as resources for advice; they were all in our spot at one time in their life and have insight into what our futures could look like.
Mattye: Come prepared everyday to learn something new!
Makayla: Limit other high-priority commitments. A forty-hour internship (plus commuting and additional misc. time) is a much larger commitment than many can conceive before the start date.
Michael: Ask questions! If you're confused, don't be afraid to ask. Even if the question could be difficult to answer, everyone at The Plexus Groupe is willing to help and ready to listen.
From everyone at The Plexus Groupe, we want to thank our 2022 interns for their incredible contributions this summer. We wish each of them the best of luck with their upcoming school year and future endeavors.
Are you interested in gaining valuable work experience through our internship program at The Plexus Groupe? Are you a recent college grad seeking a vibrant career with growth opportunities? Check out our careers page to stay up-to-date with open positions!